Press
The Melrose Corporation Awarded Two New David Weekley Homes Contracts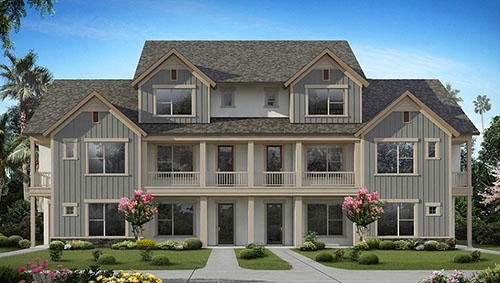 ORLANDO, Fla. — The Melrose Corporation has been awarded two contracts with David Weekley Homes to provide full-service property and Lifestyle amenities management for downtown Lake Mary's Griffin Park and Sarasota's Payne Park Village. The communities will be managed from Melrose's Orlando corporate office and southwest Florida regional office in Ft. Myers, respectively.
Katherine Montgomery, LCAM and Vice President of The Melrose Management Partnership, the management branch of The Melrose Corporation, said her firm will supervise the management operations for Payne Park Village and Griffin Park, which was recently named the Top Luxury Residential Product by the Orlando Business Journal.
Under the agreements with David Weekley Homes, The Melrose Management Partnership will provide the supervision of all community management, including HOA meetings and owner-resident relations at Griffin Park and Payne Park Village. Bill Fife, Director of Lifestyle Services for amenity management branch Melrose Lifestyle Services, will oversee the activities and events for the new communities.
"We are looking forward to working with David Weekley Homes on these new projects," Fife said. "Payne Park Village offers Melrose Lifestyle Services to expand our services, bringing our unique brand of amenity management to the Sarasota market."
David Weekley Homes plans to build 138 homesites in Griffin Park. The private, gated community will offer five series of homes: Town Homes, City Homes, Cottages, Bungalows and Gardens.
Payne Park Village has been approved for 135 residences, consisting of detached single family homes and attached multifamily units in three- to four-story buildings. David Weekley Homes estimates that this housing mix will compete in the $300s–$500s range of Sarasota homes for sale.
* * *
For more information, contact:  
Neall Prashad, Director of Marketing, The Melrose Corporation, 800-647-0055 or 407-228-4181, nprashad@melrosecorporation.com
Bill Fife, Director of Lifestyle Services, Melrose Lifestyle Services, 800-647-0055 or 407-581-3333, bfife@melroselifestyle.com
About The Melrose Corporation
The Melrose Corporation is a leader in modern community and lifestyle management.  The Melrose Management Partnership, its Association management branch, has overseen the affairs of more than 1,250 communities over 25 years and currently manages numerous communities throughout Orlando, Lakeland, Tampa, Sarasota, Port Charlotte and Naples-Fort Myers.
Melrose Lifestyle Services, its amenity and lifestyle management division provides customizable community programming tailored to meet the unique needs of its developer and homeowner clients.
About David Weekley Homes
David Weekley Homes, founded in 1976, is headquartered in Houston and operates in 23 cities across the United States. David Weekley Homes was the first builder in the United States to be awarded the Triple Crown of American Home Building, an honor which includes "America's Best Builder," "National Housing Quality Award" and "National Builder of the Year." Weekley has also appeared 10 times on FORTUNE magazine's "100 Best Companies to Work For®" list. Since inception, David Weekley Homes has closed more than 80,000 homes. For more information about David Weekley Homes, visit the company's website at www.davidweekleyhomes.com.