Company
Melrose Voted Diamond Level Winner in the FLCAJ Readers' Choice Awards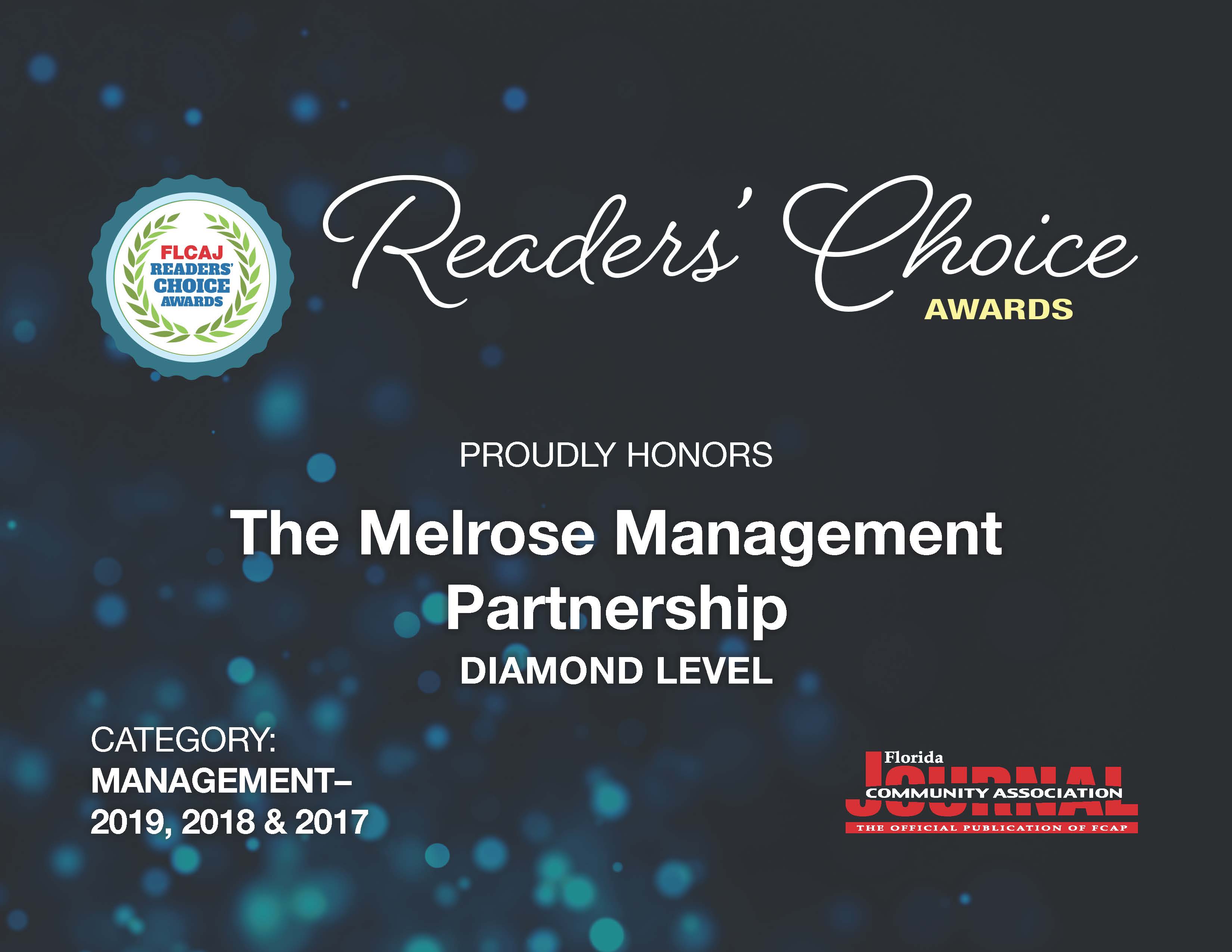 March 11, 2019 — Florida Community Association Journal magazine announced its sixth annual Readers' Choice Award winners in the March 2019 issue of the magazine with an expanded section profiling notable winners for the year.
For the third consecutive year, The Melrose Management Partnership has been voted a winner in the Management category of the Florida Community Association Journal Readers' Choice awards.  This year, we are proud to announce a Diamond Level winning status. This top-level award, which was voted on by clients, peers and vendors, is a recognition of our commitment to excellence in Community Management and Lifestyle Services.
The FLCAJ Readers' Choice Awards is a unique recognition program that shines a spotlight on the positive and productive contributions by community association service providers across Florida. The awards are presented to service providers that demonstrate, through their commitment to the community associations they serve, an exemplary level of proficiency, reliability, fairness, and integrity.
Since being founded in 2013, the Readers' Choice Awards have grown every year. With more than 500 service providers nominated for this year's awards and more than 8,400 votes cast, this was the largest voting pool the awards have seen to date.
There is no fee to enter the Awards and the entire submission process is done online. Winners are chosen based solely on the total number of votes.
For more information, contact:
Neall Prashad, Director of Marketing, The Melrose Corporation, 407-228-4181, corporate@melrosecorporation.com
Or visit fcapgroup.com.

About The Melrose Corporation
The Melrose Corporation is a leader in modern community and lifestyle management.  Comprised of eight subsidiaries, Melrose prides itself on having solid insight into the needs and concerns of each individual client served. The Melrose Management Partnership, its association management branch, has overseen the affairs of more than 1,250 communities over 25 years.  Melrose Lifestyle Services, its amenity and lifestyle management division, provides customizable community programming tailored to meet the unique needs of its developer and homeowner clients.